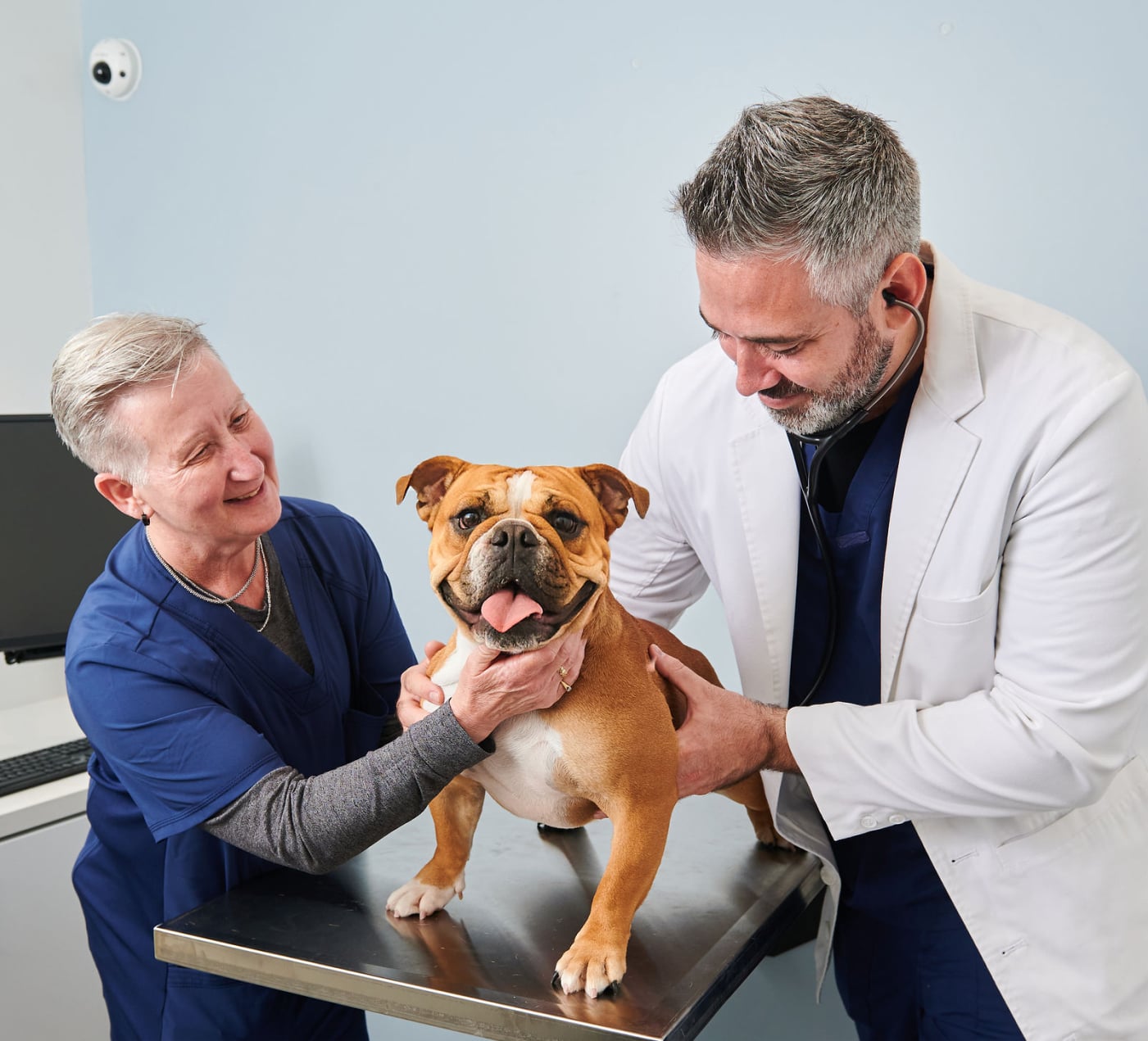 Our Services
Beginning with the preventative care that ensures your best friend stays healthy for years and advancing to more technical medical diagnostics and procedures that may be required from time to time, Palms & Paws expertly delivers a complete suite of medical care.
Preventative Care
The best way for your pet to be healthy is to make sure they stay healthy! Stay on track with vaccines, parasite prevention, annual diagnostics, nutrition, and more:
Annual Wellness Visits
Vaccines and Boosters
Prevention of Parasites
Dental Evaluations
Routine Blood Work and Diagnostics
Primary Care
We have you covered for all your everyday pet care needs:
Gastrointestinal issues
Skin and Ear Infections
Allergies
Limping
Coughing and Sneezing
Lethargy
Eye Issues
Same Day Appointments
For concerns that can't wait for a routine appointment, we hold open a block of urgent care appointments available daily. Urgent medical needs often include:
Loss of Appetite
Multiple Episodes of Vomiting and/or Diarrhea
Progressive Lethargy
Trauma or Wounds
Sudden Pain or Discomfort
Loss of Coordination
Geriatric Care
Older pups and kitties need love too! Routine screening helps to ensure a long and happy life by diagnosing and treating illnesses more common in older animals:
Arthritis
Chronic Kidney Disease
Dental Disease
Diabetes
Cancer
Diagnostics
Between our in-house equipment and our partnership with a diagnostic laboratory, we offer a comprehensive range of diagnostics, including:
Complete Blood Count, Biochemistries and Urinalysis
X-rays and Ultrasound
Microscopy (Looking at cells under our microscope)
Surgery
We are equipped to handle routine surgeries as well as more complex procedures, including:
Spays & Neuters
Mass Removals
Foreign Body Removal
Wound Exploration and Reconstruction
Laceration Repair
Dentistry
With a state of the art dental unit, we are ready and able to offer routine to advanced dentistry services including:
Routine Dental Cleaning
Full Mouth X-Rays
Oral Mass Biopsy or Removal
Simple and Complex Tooth Extraction
Specialist Support
We bring specialists in cardiology, internal medicine, and dentistry to Palms & Paws so that we provide specialty services in the comfort of a familiar environment.
Internal Medicine Specialists perform abdominal ultrasounds and provide consultation on complex cases
Veterinary Cardiologists can perform echocardiogram and review chest x-rays to guide treatment of heart disease
Dental Specialists are able to perform complex oral mass removals, tooth extractions and help train our staff on latest advances in dental care
Your questions,
answered.
Monday through Friday 8:00 AM to 6:00 PM
Each Wednesday between 12:00 PM - 2:00 PM we are closed for hospital rounds
Saturday & Sunday 8:00 AM - 4:00 PM
Palms & Paws Veterinary Center is a general practice, but we are not a specialty or emergency hospital. While we will have urgent care appointments and help provide stabilization for emergency cases, we are not a 24-hour facility. For cases that need more advanced care or the extra support overnight, we will do what is best for our patient and transfer to a local emergency room.
What is specialist support?
We are fortunate to have specialists that will spend time with the Palms & Paws team to add additional diagnostics and services to our patient's without the need to travel to a local specialty hospital.
What makes Palms and Paws different?
We offer state of the art veterinary medicine, delivered with compassion, all to help empower pet-parents and advance the life of pets. Our others-oriented leadership and team based medical approach allows us to deliver on these goals and grow together with our patients and their families.
What services does Palms and Paws offer?
An array of services from wellness visits, primary care, surgery, dentistry, geriatric care, specialist support and more. Please see our services page for more detail!
What animals does Palms and Paws treat?
While we love all animals, we specialize in dogs and cats.
Does Palms and Paws require a membership?
All are welcome, no membership required! We do plan on offering care plans in the near future for puppies & kittens, young to middle aged dogs and cats, as well as geriatric dogs and cats, please schedule an appointment or ask our client service coordinators to learn more.
Do you accept pet insurance?
Pet insurance is an excellent way to protect your pets! We will work with pet insurance carriers and ensure they receive claims in an expedient timeframe. Most insurance companies reimburse their clients after claims are received and approved.
Is there a pet insurance that you recommend?
No–while we don't recommend a particular type, we understand the decision can be overwhelming. A great resource is www.petted.com, a website where you can compare different insurance plans!
Taking care of pets. And the people who love them.
Taking care of pets. And the people who love them.
Taking care of pets. And the people who love them.
Taking care of pets. And the people who love them.
Taking care of pets. And the people who love them.
Taking care of pets. And the people who love them.
Taking care of pets. And the people who love them.
Taking care of pets. And the people who love them.
Taking care of pets. And the people who love them.
Taking care of pets. And the people who love them.